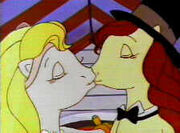 Clover's sister, Meadowlark, is going to marry the handsome pony Cheval. Clover and her friends help prepare for the wedding, but Clover does some blunders in the process. The girls notice that Cheval is flattering another female pony, but it turns out to be Cheval's sister. Clover manages to find flowers in her family's garden. Bon Bon fixes the wedding cake, and the rings are found in time for the ceremony.
Ad blocker interference detected!
Wikia is a free-to-use site that makes money from advertising. We have a modified experience for viewers using ad blockers

Wikia is not accessible if you've made further modifications. Remove the custom ad blocker rule(s) and the page will load as expected.