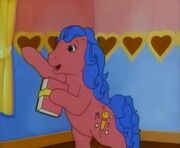 Melody (voiced by Kelly Sheridan) is the lead singer of an all-girl rock band called "The Rockin' Beats". She is shallow, gossipy and rather spoiled to her friends sometimes, holding her own interests higher than those of her friends. She sometimes tries to offer beauty advice to the others, and hopes to become a famous rock star. She has two young twin sisters named Jing-A-Ling and Ting-A-Ling, and her mother is a nurse. Melody is dark pink with curly sea-blue hair, and her hip mark is a golden-colored microphone surrounded by several musical notes.
Ad blocker interference detected!
Wikia is a free-to-use site that makes money from advertising. We have a modified experience for viewers using ad blockers

Wikia is not accessible if you've made further modifications. Remove the custom ad blocker rule(s) and the page will load as expected.